This page contains photos of a 1968 Chevy Chevelle Wagon (Nomad) undergoing restoration at Rod Shop Inc. Auto Body, Repair and Painting in Stuart, Florida: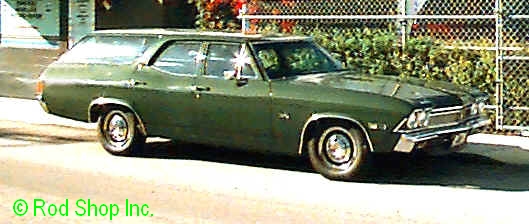 Click on a thumbnail to enlarge the image.
A true 1968 Chevy Nomad!!! Really a Nomad? YES A NOMAD!!! In 1968 the Chevy Nomad was the stripped down low powered bottom of the line family truckster. The Nomad came stock with a straight six. No A/C, No Power Steering and not much of anything else. This wagon has been on the road its entire life and is now being restored and slightly modified from original by installing a Chevy small block and automatic trans, A/C and Power Steering.
Above are before photos of the engine with the front sheet metal removed. We purchased a 1968 Chevy Impala and used it as the donor car for our wagon project. We used roof sections, engine and even some interior parts. We also parted a couple of scrap Chevelles to get enough goodies to complete our wagon.
Above Dan tapes and papers the body for paint. The doors and other parts will be painted separately and off the car. We sectioned roof rails, quarter panels and door bottoms. Several parts were even hand made.
Above the engine is being made ready. New parts installed. Everything being made ready for the road with durability in mind. Original GM parts are used whenever possible. New exhaust manifolds, water pump, alternator etc. We also installed a GM electronic ignition. The engine has been rebuilt and set up with a Corvette Intake and 4 Barrel Rochester Carburetor, all original pulleys brackets and tin.
Above the body has been painted, doors and glass have been installed with new seals. Its basically finished. The interior is installed and chrome replated. Everything works and is ready for the road.
This wagon makes a great street car. Its a head turner and drives really nice.
Home Contact Us How To Find Us Check On My / Project Albums Tour Our Shop
Automotive Services Classic Car Restoration Collision Repair Damage Appraisal & Estimating
Frequently Asked Questions Classic Car Appraisal Treasure Coast Auto Pro
Events & Car Shows Used car Lot Classifieds
© 2014 Rod Shop Inc.
All rights reserved.